Gwent
Interesting facts about Gwent
Little-known interesting facts about Gwent
Secret names of characters
There are some bronze witcher cards that have names (even thoough they have none in the Gwent deckbuilder).
Their artwork has been used in the Witcher: Old World board game and also named in the same game.
Godryk is the Griffin Witcher Ranger
Kylar is the Cat Witcher
Ryfar is the Bear Witcher
Jasper is the Viper Witcher
Easter eggs in cards illustrations:
An Craite Raider in the background of Harald An Craite second form card
Dulla kh'Amanni has Runewright in his background (with same pose in his card)
Runewright has Dulla and Geralt in his background (with the same pose in Dullas card)
Townsfolk in the background of the Ofiri Merchant card
Auberon second form is in front of Ard Gaeth
Commander Shepard from Mass Effect in Raffard's Vengeance card
Kerack Marine is in the front of the Kerack Frigate ship
Geralt is present in Siegfried of Denesle card
Count Caldwell's dog starts peeing on him KEKW
The three non-crossed bounties in Maxii's background are Idarran, Cosimo Malaspina and Alzur
Morkvarg is in the background of Skjall card
Magne Division card is based on the Kingdom of Heaven film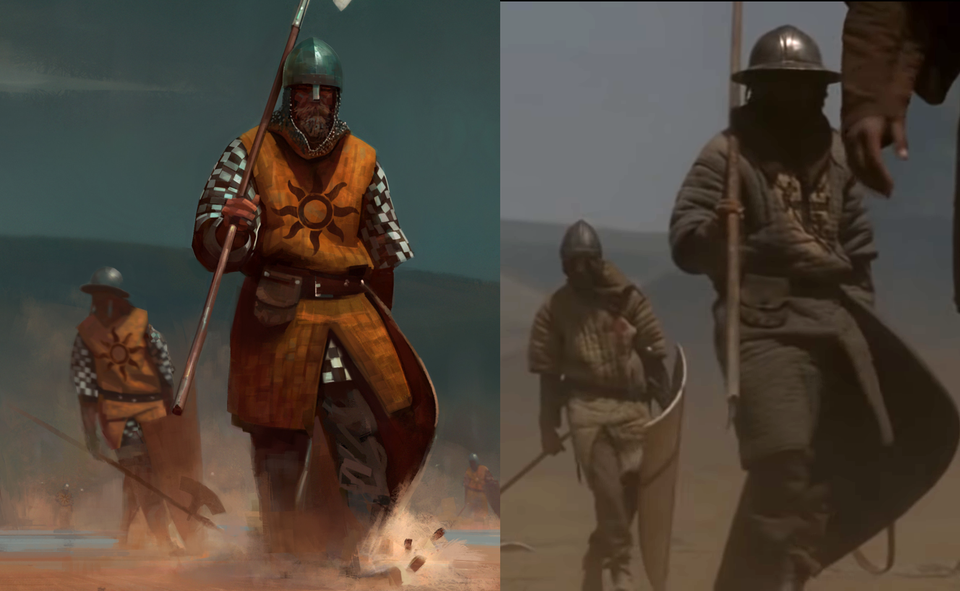 Easter eggs in premium cards animations:
Yellow duck is swimming in the bath on Mage Assassin.
Newspaper hits Birna Bran
Priscilla jamming to disco light
Background glitch in Traveling Merchants
Sacred Flame, the fire changes to a dragon
---
Winch has a Witcher school logo dust particle (bottom left corner)
Penguin in the background of the Dimun Pirate Captain
Johnny has Ciri teleporting in the background
There is a Nekker in the bag of Whispess in her tribute card
Naked Triss cosplay in Freakshows
---
Giant soldier walking by with other soldiers in reinforcements
Naglfar in the background of Winter Queen
Beggar has well known Witcher characters in the background, also in the Beggar the shadow of passerbys are of a soldiers, Gascon, Caldwell, and Geralt
A very rare easter egg, you can hear a helicopter in Cintrian Knight
Gaunter o'Dimm easter eggs :
Gaunter is present in the background of Kerack Marine card
Gaunter is present in the background of Angry Mobs
Gaunter is present in the background of Smuggle card
Gaunter is present (his legs) in Jacques first form card
Gaunter is present in Usuper first form card
Gaunter is present in the background of Dies Irae
Game of Thrones references:
---
Other
Tuirseach Invader holds the severed head of Drummond Villager in her hand
This is evidenced by illustrations and descriptions:
---
You can invite friends to Gwent and every time they finish additional quests you and them gain extra resources:
https://www.playgwent.com/en/invite-a-friend
You can also get a Witcher 1 Extended Edition and a free Card Keg just for subscribing to GOG Newsletter.